---
Photographers Miller + Miller Architectural Photography are Nationwide award-winning producers of high-rise skyscraper building photography. Our photography company has the capacity and experience to photograph any building project large or small. Photographing high-rise architecture, tall condominiums, urban and suburban apartment towers, corporate offices, skyscrapers, from 10 to 40-stories or larger hotels, luxury, residential property, million square foot commercial properties, and large buildings in not only our home town of Chicago, also traveling to the City of Dallas, Houston, Austin, Las Vegas, St Louis, Detroit, New York, Miami, Seattle, Phoenix, Milwaukee, San Francisco and other major cities Nationwide since 2006.
Rest assured knowing that our architectural photography company has experience photographing all types of buildings from mid to high-rises, condominiums, extra-large warehouses, the tallest skyscrapers, or large buildings strategizing the property into the best light possible. Over the past ten years, we have been highly focused and in-tune to each of our client's business development needs to create award-winning, high-caliber, and quality exterior building property photography and drone aerial photographs for all of your company's photo marketing, magazine and publishing needs.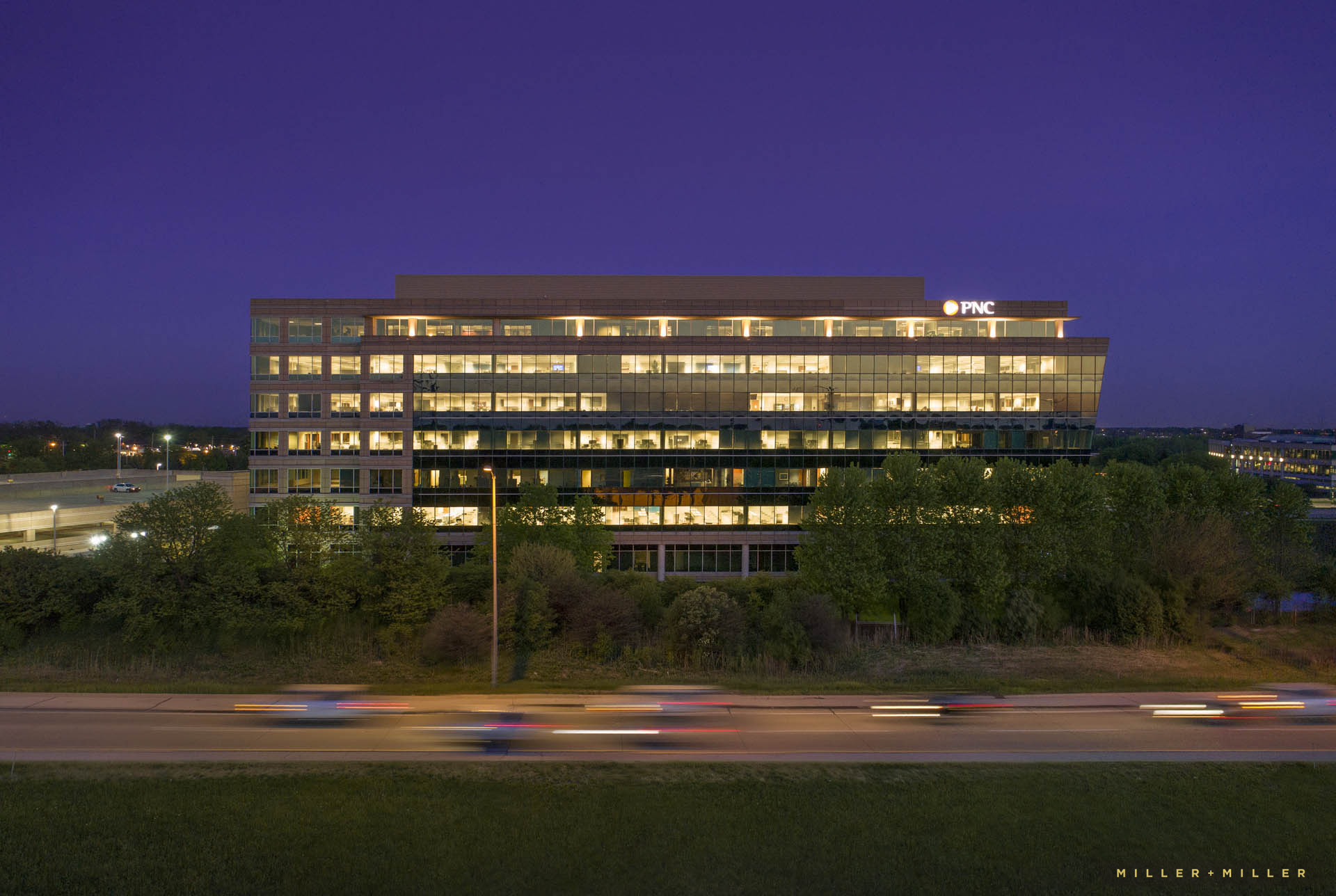 Does your company build around the US? Travel is easy for our Illinois Chicago – Phoenix Arizona based photography company. We are a husband and wife architectural photographers with over a decade client photo projects with travel across the country. Photographing high-rise properties and developments in not only the Midwest and Southwest but Nationwide. For over a decade, clients in energy, infrastructure, corporate businesses, real estate, architect company, design-build, high-rise construction, large healthcare properties on a medical campus, education university college, high-rise rentals, leasing, skyscraper tower developers, urban property management and more Contact Us for residual large-scale photography shoot project success. Miller + Miller Architectural Photography are your established and creative marketing photographer specialists with accomplished abilities in photographing exterior photography and aerial drone photographs for today's finest built skyscrapers, high-rise properties and large buildings in any geographic location – Nationally, Internationally, and Worldwide. We look forward to discussing your business and photo projects.
Read more about builders of high-rise projects around the US, Chicago's 50 high-rises under construction in Chicago in 2018, and The Business Journals web site has weekly updates about design, architecture and news about Nationwide high-rise development activities evolving Nationwide. More skyscrapers were built in 2017 than any other year, in sixty nine cities around the World. China is the leader and takes the cake with the most high-rises last year.  Intrigued by architecture like us?  See the World's tallest 100 buildings according to ctbuh.org the Council on Tall Buildings in Urban Habitat.
---
For the Lurie Children's Hospital of Chicago Skyscraper Building Photography project, our Construction Company client's project and photo shoot required a bit of strategizing.  Strategizing for each client project is typical, but especially necessary for these photos due to not only to photographing the building skyscraper's full height, but also due to the location & elevation direction. The Lurie Children's Hospital facility sits one 1.8 acres of land on one of the most visited sections in downtown Chicago – with an estimated 30,000 Northwestern Medicine staff alone in the medical districts area. Affiliated with and sitting on Northwestern Memorial Hospital campus, Ann & Robert H. Lurie Children's Hospital of Chicago sits in the heart of downtown and inside the bustling mixed-use district of Chicago's magnificent mile neighborhood where several hotels, residential, offices, restaurants, shopping and museums surround. With our experience photographing buildings in Chicago since 2008, it was easy to balance all of these elements during the photo shoot. Lurie Children's Hospital's main elevation faces Chicago Avenue looking North onto the lawn of Musuem of Contemporary Art. With our strategizing, planning and advanced research, Miller+Miller easily planned ahead for a few photographic challenges, strategizing for Lurie's north facing building facade, and high-rise construction building Chicago photography as desired.
The new construction plans for The Lurie Children's Hospital of Chicago high-rise skyscraper medical building included a modern & new building design, and plans to improve the operational efficiency of the medical facility. Construction started in 2008 and completed in 2012.  The new Lurie Children's Hospital of Chicago Building's construction hospital facility stands 22 floors above the ground and is located in Chicago's urban neighborhood where buildings extend all the way to the sidewalks with no empty building space left on each square block.  The Lurie Children's Memorial Hospital was 1 building elevation in a list of 15 properties we photographed for our Construction Company client's portfolio of past construction work.  (Click here to view all of our posts & photography of Buildings at Northwestern University in Evanston and Chicago medical campuses)
Miller + Miller Architectural Photography has photographed several new construction hospital & medical centers and skyscraper buildings around Chicago. The concrete, glass and steel built Chicago skyscraper tower sits 1,252,919 feet tall.  With the high-rise sitting in the bustling section of downtown Chicago, the location and no option for adding on real estate for the new building design except for going taller, meant the facility would need a unique architectural building design to best fit within the existing neighborhood.  The architects final designs included stacking of the upper level of the skyscraper's floors creatively, with the east and top portion of the building extending a couple of room to the east, toward Lake Michigan.  The unique structure viewable from the northside extends looks stacked extending off the building's base to the east which allowed for more room inside the hospital creatively adding stacked look, maximizing the new Lurie hospital's medical offices, suites, and space within the glass & steel new building construction's design.
Ann & Robert H. Lurie Children's Hospital of Chicago is located on the Northwestern Memorial Hospital complex campus at 225 East Chicago Avenue, Chicago IL 60611. The Lurie Children's Hospital building, also reference by the name of Children's Memorial Hospital, displays a modern & unique approach to high-rise hospital architecture and building design. The Lurie Children's hospital was architecturally designed by Solomon Cordwell Buenz Architects scb.com, Anderson Mikos Architects Ltd and ZGF Architects LLP. Structural Engineer & Building Design for the Lurie medical facility by Magnusson Klemencic Associates and construction services by Affiliated Engineers Inc, M.A. Mortenson Construction Real Estate Development Company, Mortenson.com, Power Construction Company PowerConstruction.net,  Mikyoung Kim Design, ArcelorMittal Steel Construction, Harmon Inc  harmonic.com, RWDI Consulting Engineers and Scientists.
Based in Chicago, commercial photographers Miller + Miller Architectural Photography photographs and quotes building photography projects Nationwide. Contact us with details about commercial building, hospital renovation, new construction, or high-rise skyscraper medical facility. We look forward to learning about your construction company and commercial photo needs.
---