---
Photographers Miller + Miller Architectural Photography are Nationwide award-winning producers of high-rise skyscraper building photography. Our photography company has the capacity and experience to photograph any building project large or small. Photographing high-rise architecture, tall condominiums, urban and suburban apartment towers, corporate offices, skyscrapers, from 10 to 40-stories or larger hotels, luxury, residential property, million square foot commercial properties, and large buildings in not only our home town of Chicago, also traveling to the City of Dallas, Houston, Austin, Las Vegas, St Louis, Detroit, New York, Miami, Seattle, Phoenix, Milwaukee, San Francisco and other major cities Nationwide since 2006.
Rest assured knowing that our architectural photography company has experience photographing all types of buildings from mid to high-rises, condominiums, extra-large warehouses, the tallest skyscrapers, or large buildings strategizing the property into the best light possible. Over the past ten years, we have been highly focused and in-tune to each of our client's business development needs to create award-winning, high-caliber, and quality exterior building property photography and drone aerial photographs for all of your company's photo marketing, magazine and publishing needs.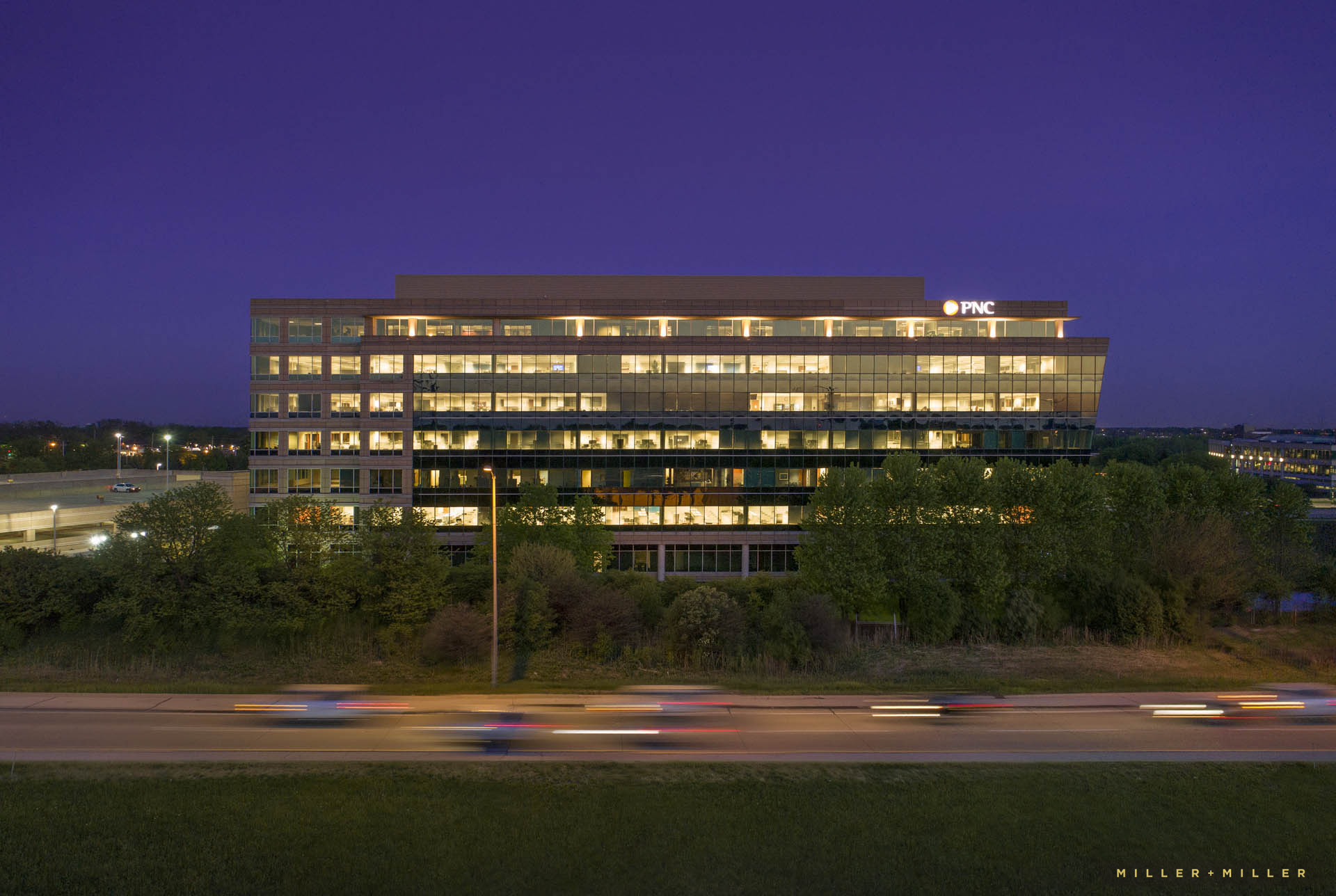 Does your company build around the US? Travel is easy for our Illinois Chicago – Phoenix Arizona based photography company. We are a husband and wife architectural photographers with over a decade client photo projects with travel across the country. Photographing high-rise properties and developments in not only the Midwest and Southwest but Nationwide. For over a decade, clients in energy, infrastructure, corporate businesses, real estate, architect company, design-build, high-rise construction, large healthcare properties on a medical campus, education university college, high-rise rentals, leasing, skyscraper tower developers, urban property management and more Contact Us for residual large-scale photography shoot project success. Miller + Miller Architectural Photography are your established and creative marketing photographer specialists with accomplished abilities in photographing exterior photography and aerial drone photographs for today's finest built skyscrapers, high-rise properties and large buildings in any geographic location – Nationally, Internationally, and Worldwide. We look forward to discussing your business and photo projects.
Read more about builders of high-rise projects around the US, Chicago's 50 high-rises under construction in Chicago in 2018, and The Business Journals web site has weekly updates about design, architecture and news about Nationwide high-rise development activities evolving Nationwide. More skyscrapers were built in 2017 than any other year, in sixty nine cities around the World. China is the leader and takes the cake with the most high-rises last year.  Intrigued by architecture like us?  See the World's tallest 100 buildings according to ctbuh.org the Council on Tall Buildings in Urban Habitat.
---
It was a beautiful weathered day during our photography building shoot in Phoenix Portland on the Park Condo & Mixed-Use Infill Development photos capturing day and night architectural photography building photos in downtown Phoenix.  We are architectural photographers traveling between Chicago and Arizona often serving the Midwest, the West Coast and beyond traveling Nationwide.  This Phoenix Arizona building photography project was at Portland on the Park located at 200 W Portland St, Phoenix, AZ 85003.
The new construction modern building is a mixed-use, infill development in Phoenix. Project developers, Habitat Metro are experts in the infill development process which is developing vacant or under-used parcels, within existing large urban areas, in Portland Oregon and the Phoenix metropolitan areas.  Although these urban areas are already largely developed, the real estate development firm Habitat creates new infill developments.  Portland on the Park is an example of multi-use building from its residential condos with breathtaking terrace views overlooking Margaret T. Hance Park & the Japanese Friendship Garden and luxury appointed penthouses & condominiums, to commercial retail on the ground level and on-site parking garage, the mixed-use structure, on 3 acre parcel of land was a massive building to photograph.
Our client is the manufacturers and erectors of windows and window-walls for high rise structures.  The Portland on the Park downtown Phoenix photography shoot project was completed last Fall.  This development was one of three buildings needing architectural photography in the Phoenix metropolitan region.  The timing was perfect for the photography shoot, as Portland on the Park Development had just completed construction in 2017.  Arizona construction crews worked day into night completing the development, built in two phases. Residents began moving into finished condominium units in January 2017.
The mixed-use infill development has 149 residential units with 7,200 square feet of commercial space. Including 15,000 square feet of retail amenities.  The architectural modern design of the development's structure is unique with multi-levels incorporating a timeless modern architectural design elements, emphasizing clean vertical lines.
The Portland on the Park photography shoot consisted of focusing on the entire building.  The property is comprised of lofts and condominiums within towers of four, 12, and 14-story building sections and post-tension concrete towers. The building features a resort-style pool, open-air gathering rooftop on top of the 14-story tower offering unobstructed views of the city, the surrounding Phoenix mountains in the distance, and rooftop space where residents and their guests can enjoy use of rooftop barbeque and fire pit facilities.  Planned as a truly 'smart' building, dedicated fiber with commercial Internet connection speeds unprecedented in current home services with IT infrastructure planned to keep up with future technology. An Elan scalable home automation system is installed in each unit providing a platform for entertainment, accessory, security and environment management.  Additionally, the building has planned capacity for car-charging stations throughout the community's on-site parking garage.  Residences include one, two and three bedroom condo residences starting prices ranged from the $235,0000 to $1.25 million.
This Phoenix Portland on the Park Mixed-Use Development project team include commercial development Sunbelt Holdings, and developer Habitat Metro, LLC who specialize in mixed-use, multifamily & hospitality construction development.  Sunbelt Holdings and Habitat Metro led the development for Portland on the Park and the urban condominium community along one of Phoenix's last remaining boulevard park streets. Additional team members for the development project include award-winning design of by architect DAVIS Architecture, IAP Enclosures, urban living lifestyle specialists Braun Allison from Vancouver and Scottsdale-based The James Agency are managing marketing and public relations.
The projected $75 million development is situated along Central Avenue on Portland Street between Portland Park and 32 acre oasis Margaret T. Hance Park, giving residents prime access to downtown amenities including the light rail, Roosevelt Row Arts District, and Japanese Friendship Garden. The park is the venue for popular events throughout the year including the recent three-day March Madness Music Festival, the city's St. Patrick's Day parade and the McDowell Mountain Music Festival. Portland on the Park is near Downtown Phoenix's vibrant restaurant, arts, professional sports and shopping scenes. The community is located on one of Phoenix's last boulevard park street and boasts for residents one of the Phoenix Valley's area highest walkability scores.   Sources: AZ Big Media, Habitat Metro, Downtown Phoenix Journal, Phoenix New Times, Downtown Phoenix Journal.
Miller + Miller Architectural Photography is a photography company who photograph buildings, hotels, skyscrapers, luxury, multifamily, apartments, new construction, residential, hospitality, interiors, exteriors, commercial, residential, architecture, and more.  Contact us our husband-wife photographer team of Ryan and Sarah Miller who's limits are endless … aerial drone photos and video, skyscraper architectural photos, day or stunning evening night building photography, luxury high-rise condominium photography, 5-star hotel interior photography, boutique hotel, resorts, business plazas, retail, restaurants, lavish desert estates, homes and mansions, spas & resorts, commercial properties, industrial, or residential high-rise properties, and more whether in Phoenix, Portland, or beyond.
Serving client's around the Nation since 2006, our Chicago-based photography company travels often to Phoenix, Seattle, Vancouver, Portland, Reno, the Bay area and Southern California for our architectural, residential, condo, loft, luxury and custom home photography clients.  Many building multi-state requesting photography of developments, building, and construction projects for a portfolio.  
---