---
Photographers Miller + Miller Architectural Photography are Nationwide award-winning producers of high-rise skyscraper building photography. Our photography company has the capacity and experience to photograph any building project large or small. Photographing high-rise architecture, tall condominiums, urban and suburban apartment towers, corporate offices, skyscrapers, from 10 to 40-stories or larger hotels, luxury, residential property, million square foot commercial properties, and large buildings in not only our home town of Chicago, also traveling to the City of Dallas, Houston, Austin, Las Vegas, St Louis, Detroit, New York, Miami, Seattle, Phoenix, Milwaukee, San Francisco and other major cities Nationwide since 2006.
Rest assured knowing that our architectural photography company has experience photographing all types of buildings from mid to high-rises, condominiums, extra-large warehouses, the tallest skyscrapers, or large buildings strategizing the property into the best light possible. Over the past ten years, we have been highly focused and in-tune to each of our client's business development needs to create award-winning, high-caliber, and quality exterior building property photography and drone aerial photographs for all of your company's photo marketing, magazine and publishing needs.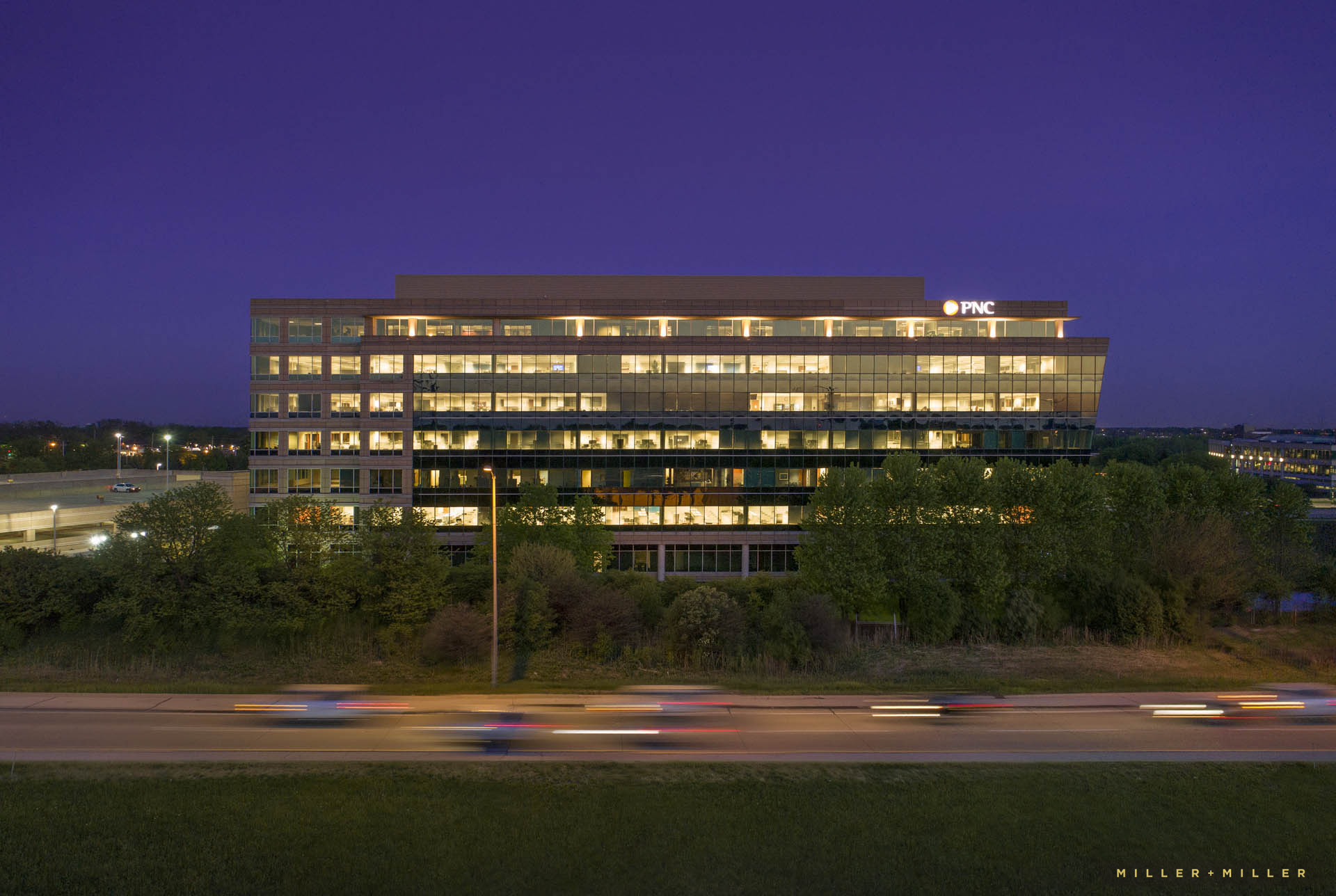 Does your company build around the US? Travel is easy for our Illinois Chicago – Phoenix Arizona based photography company. We are a husband and wife architectural photographers with over a decade client photo projects with travel across the country. Photographing high-rise properties and developments in not only the Midwest and Southwest but Nationwide. For over a decade, clients in energy, infrastructure, corporate businesses, real estate, architect company, design-build, high-rise construction, large healthcare properties on a medical campus, education university college, high-rise rentals, leasing, skyscraper tower developers, urban property management and more Contact Us for residual large-scale photography shoot project success. Miller + Miller Architectural Photography are your established and creative marketing photographer specialists with accomplished abilities in photographing exterior photography and aerial drone photographs for today's finest built skyscrapers, high-rise properties and large buildings in any geographic location – Nationally, Internationally, and Worldwide. We look forward to discussing your business and photo projects.
Read more about builders of high-rise projects around the US, Chicago's 50 high-rises under construction in Chicago in 2018, and The Business Journals web site has weekly updates about design, architecture and news about Nationwide high-rise development activities evolving Nationwide. More skyscrapers were built in 2017 than any other year, in sixty nine cities around the World. China is the leader and takes the cake with the most high-rises last year.  Intrigued by architecture like us?  See the World's tallest 100 buildings according to ctbuh.org the Council on Tall Buildings in Urban Habitat.
---
If you impress your audience with great imagery, your are making a great first impression. Great first impressions draw the consumer in, often leading them to narrowing down their options quicker, and eventually lead to decision making and closed sales. When selling architecture or real estate, the first photo a potential buyer sees of a penthouse condo, luxury home or apartment, should be a strong representation of the community and the home.  Less-than-flattering pictures can turn buyers off and lead to lonely open houses.
We enjoy our loyal clients who come back to us for repeat interior and exterior photography projects.  One client mentioned after implementing their first home's photos, a new home buyer and customer mentioned "upon first seeing this amazing photo, I knew I wanted to live in life in that photo and enjoy that lifestyle."   Through the use of photography and building a company's corporate image or company brand with photographs, developers, builders, marketing experts and more commonly say establishing a brand can create an impact on your audience.
As Chicago architectural photographers, we are capable of not only interior and exterior home photography such as the photographs previewed above, but we offer the option to provide photos beyond the single property or typical home photos.  Often we are commissioned to not only capture indoor and outdoor home photos of our client's personal residence or the agent's listed home, whether being a residential location such as a rooftop penthouse, loft, condominium, or luxury townhome or photos of a commercial property, photography of a new condo construction project in Chicago, multi unit suburban or downtown development, or investment property, but we are happy to also provide and offer an option to upgrade our services with extra architectural photography items such as aerial photography, environment architecture photographs, lifestyle photography, nearby location landmarks, travel and leisure photography.
For this project, we photographed a two bedroom, two bath luxury condo located  in Chicago's South Loop neighborhood in a high-rise tower within the One Museum Park West Tower IV development.  With it's ideal and prime development location on Lake Michigan, this waterfront location overlooks Chicago's Grant Park, The Field Museum, Adler Planetarium, Solider Field Stadium, boats, yachts and Chicago Burnham Harbor.  We talked about how the One Museum Park West development offers homebuyers not only to buy an amazing property, but they are also buying a lifestyle and the nearby urban community which goes along with living in the South Loop neighborhood.  Our client decided to add on a day of Chicago architecture photographs which was beyond the real estate interior and exterior photography.  Our architecture focus was to capture lifestyle photos all within viewing distance of the penthouse condo's balcony.  Locations included a few City landmarks viewed from the terrace such as Buckingham Fountain, pictures of the museums, Chicago yacht club, aerial photos of Soldier Field, and a full exterior skyscraper building photographs from Grant Park showcasing the properties proximity to the nearby Loop and business corridor.  This South Loop development is ideally located close for commuters into the Loop, with easy travel to downtown commercial and corporate buildings.  Within the Park West Tower IV building, we captured photos of the high-rise building's pool and resident amenities.  The extra photographs beyond the real estate and luxury condo photography home tour pictures were a perfect compliment to help illustrate and sell a lifestyle photographically.
So whether your marketing a metropolitan landmark, looking to feature a destination or travel location through photography, or selling a property, while searching online real estate agents, sales and marketing departments, online listing services, and web designers all agree, great imagery provides to the seller or end user a great impression.  We look forward to your contact and please send us an email so we can learn more about your travel photography project, your future development either underway in construction or completed, or your luxury home or residence's marketing photography needs.  We travel often, so our capabilities are not limited to the Northern Illinois metropolitan area.  We are available to travel to a number of destinations in urban regions, cities and towns around the U.S., and occasionally outside of the Nation for International projects.
---